Pikes Peak or Bust Rodeo Days
Championship rodeo is coming to town this summer at the 79th Pikes Peak or Bust Rodeo—July 10-13, 2019 at the scenic Norris-Penrose Event Center! The top talent in professional rodeo will be invited to this PRCA-sanctioned event, competing in seven standard events including Bareback, Saddle Bronc, Bull Riding, Tie-Down Roping, Steer Wrestling, Team Roping, and Barrel Racing. Pikes Peak or Bust Rodeo has been a Colorado Springs tradition since 1937, showcasing top rodeo talent and action, while providing wholesome entertainment for area residents, as well as visitors to the region. Fans come from far and wide to enjoy top rodeo action and tons of family fun, all while honoring our local military and their families.
Pikes Peak or Bust Rodeo Days kicks off with a parade in the true hometown tradition. You'll see floats, equestrian groups, and lots of local businesses as they head south on Tejon, on Tuesday, July 9, 2019.
And then, get ready to Rodeo starting July 10-13, 2019—with four performances of invitational championship rodeo and the thrilling Gold Buckle Championship Round on Saturday night, where the top eight scores and eight fastest times from the qualifying performances lay it all on the line for over $200,000 in prize money. It's edge of your seat excitement from the first event to the last!
Wait! There's more!! Don't miss the smash hit bonus event, Bullfighters Only (BFO) Freestyle Bullfighting—back for 2019 and better than ever. Don't miss these fearless bullfighters going head-to-head to post the top scores, with bragging rights and a cash prize on the line. Competitions take place nightly on Wednesday, Thursday and Friday ONLY. Check out the video link for a glimpse of the excitement!
This all takes place at the scenic Norris-Penrose Event Center, one of the most beautiful venues in the country to enjoy the sport of rodeo. Plan to get your tickets early and buy online to save time and money. The 79th Pikes Peak or Bust Rodeo is for the true fan, the first timer and everyone in between! Experience championship rodeo at its finest this July 10-13.
2019 Performance/Theme Sponsors:

Wednesday, July 10, 2019—Honoring Fort Carson
Sponsored by Northwestern Mutual
Thursday, July 11, 2019—Honoring Missile Defense & First Responders
Sponsored by UCHealth
Friday, July 12, 2019—Honoring Air Force Space Command
Sponsored by The Boeing Company
Saturday, July 13, 2019 (Matinee)—Honoring the U.S. Air Force Academy
Sponsored by USAA
Saturday, July 13, 2019—Honoring NORAD/USNORTHCOM
Sponsored by Lockheed Martin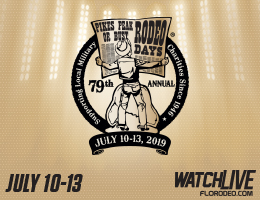 2019 Day Sheets & Results
Wednesday, July 10—Day Sheet
Wednesday, July 10—Results
Thursday, July 11—Day Sheet
Thursday, July 11—Results
Friday, July 12—Day Sheet
Friday, July 12—Results
Sat. Mat., July 13—Day Sheet
Sat. Mat., July 13—Results
Saturday, July 13—Day Sheet
Saturday, July 13—Results
Championship Format
New to our competition format? Check out our event flow diagram to see how it all goes down at PPoBR!
Before You Head Out
Looking for details on accessibility, parking, stroller policy, ATMs and more? Grab our updated flyer for helpful venue and event information.