---
SEE YOU JULY 8-11, 2015
FOR THE 75th PIKES PEAK OR BUST RODEO!
Details coming soon!
---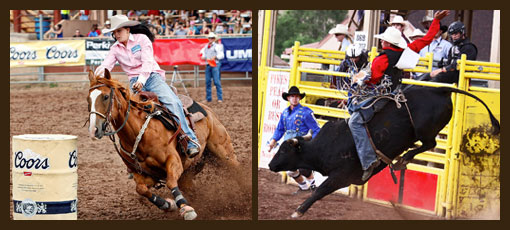 Pikes Peak or Bust Rodeo Days kicks off with a parade in the true hometown tradition. You'll see floats, equestrian groups, and lots of local businesses as they head south on Tejon, Tuesday, July 8, 2014.
And then, get ready to Rodeo starting July 9-12, 2014—with four performances of invitational championship rodeo and a finals championship Shoot Out on Saturday night. The best athletes in rodeo will compete for top prize money in bareback riding, steer wrestling, team roping, saddle bronc riding, tie-down roping, barrel racing, and bull riding.
This all takes place at the scenic Norris-Penrose Event Center—one of the finest places in the country to enjoy the sport of rodeo. Plan to get your tickets early because this is going to be a sell-out. The 74th Pikes Peak or Bust Rodeo is for the true fan and the first timer and everyone in between. Experience championship rodeo at its finest this July 9-12.
GET YOUR TICKETS EARLY AND SAVE!
Wednesday, July 9, 7:15 p.m. | Fort Carson
Patriot Night (wear your red, white and blue!)
Thursday, July 10, 7:15 p.m. | Missile Defense & 302nd Airlift Wing
Think Pink Night • sponsored by UMB Bank
Friday, July 11, 7:15 p.m. | Air Force Space Command
sponsored by The Boeing Company
Saturday, July 12 – Matinee, 12:45 p.m. | U.S. Air Force Academy
Family Day • sponsored by USAA
Saturday, July 12 - Evening, 7:15 p.m. | NORAD and USNORTHCOM
sponsored by Lockheed Martin