Girls of the West
The Girls of the West story is about our young Rodeo Ambassador, and how she helps promote "the western way of life and the western-type American girl" at our Pikes Peak or Bust Rodeo and other events. Meet the Girl of the West: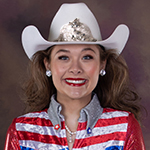 Makena Norton—Girl of the West
2023 Girl of the West, Makena Norton, is the 19-year-old daughter of Jeff Norton and Kristen Norton, and sibling to Maddy Norton. She has been involved in many realms of the equestrian community including the Colorado Hunter Jumper Association, Interscholastic Equestrian Association, and a member of the Pikes Peak Rangerettes. She also served as the 2022 El Paso County Fair Queen.
Makena is studying Agricultural Communications at the University of Wyoming. She hopes to have a career in which she can incorporate rodeo into her area of study. When not at school, Makena spends her downtime with her family and dogs, and riding her horses.
The mission of the Pikes Peak or Bust Rodeo is near and dear to Makena's heart as her grandfather served in the United States Air Force. She is grateful to be a part of an organization that has proudly donated its proceeds to help service members and their families in the Pikes Peak region since 1946.
Makena rides her sorrel Quarter Horse gelding named Herbi.
GOTW images above © 2023 Waldrons Family Studio; Hats by Greeley Hat Works; Buckles by Clint Mortenson Silver and Saddles