Mutton Bustin'
Is your child 4-9 years of age and 50 pounds or less? Then bring 'em on down to each performance of the Rodeo to try their luck at mutton bustin'!
Dates: July 11-15, 2023
Prelims: Starts at 4:00 p.m. Tuesday–Saturday nights and 10 a.m. for the Friday and Saturday matinees
Finals: Takes place at each performance
Cost: $12 for Prelim rides and $20 to ride again in the Finals if selected. Note: you must bring the completed form and fees with you the day your child competes! You can also register on-site. Pre-registration is NOT required!
Contact: Mutton Bustin' Inquiries
Resources:
Mutton Bustin' Registration Form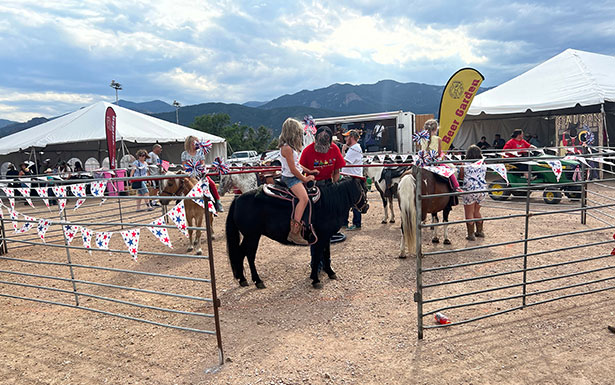 Fan Zone and Vendors
There's lots to do before the Rodeo begins. Grounds open at 4:00 p.m. for the evening performances and at 10 a.m. for matinee performances. Mutton bustin' preliminaries or try-outs are a fan-favorite and tons of fun for the whole family—more detailed information is available on this page if your child is interested in competing! Plus there's pony rides, longhorns, a barrel train, a petting zoo, roping demos, and even a horse-drawn wagon!
With vendor booths on the north and south sides of the arena, you'll see a wide array of unique goods to shop, from hats and authentic western wear to souvenirs. Vendors and concessions offer plenty of options for meals, snacks, and drinks.
Resources: