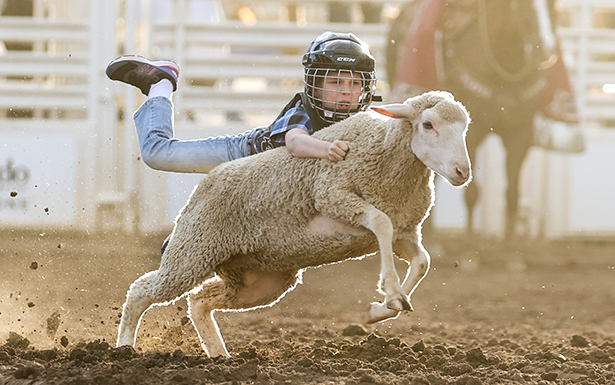 Mutton Bustin'
Is your child 4-9 years of age and 50 pounds or less? Then bring 'em on down to each performance of the Rodeo to try their luck at mutton bustin'! (The ages and weight noted — no exceptions)
Dates: July 9-13, 2024
Prelims: Starts at 4:00 p.m. Tuesday–Saturday nights and 10 a.m. for the Friday and Saturday matinees
Finals: Takes place at each performance
Cost: $15.00 for Prelim rides. Note: you must bring the completed form and fee with you the day your child competes! You can also register on-site. Pre-registration is NOT required!
Contact: Mutton Bustin' Inquiries
Resources:
Mutton Bustin' Registration Form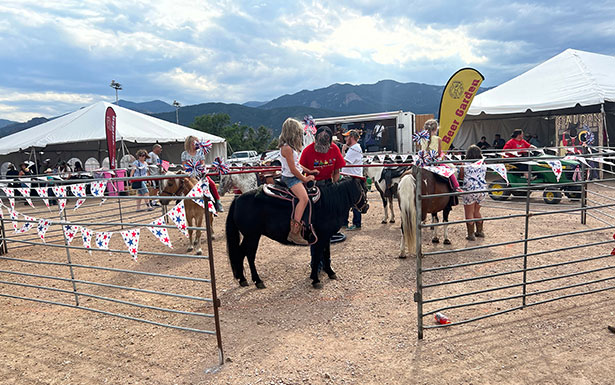 Fan Zone and Vendors
There's lots to do before the Rodeo begins. Grounds open at 4:00 p.m. for the evening performances and at 10 a.m. for matinee performances. Mutton bustin' preliminaries or try-outs are a fan-favorite and tons of fun for the whole family—more detailed information is available on this page if your child is interested in competing! Plus there's pony rides, longhorns, a barrel train, a petting zoo, roping demos, and even a horse-drawn wagon!
You can also kick back while you're in the Fan Zone and enjoy the Beer and Wine Corral, plus there's live music (bands to be announced soon!)
Only in the Fan Zone and before the Rodeo!
With vendor booths on the north and south sides of the arena and in the Fan Zone, you'll see a wide array of unique goods to shop, from hats and authentic western wear to souvenirs. Vendors and concessions offer plenty of options for meals, snacks, and drinks.
Resources: