History
The Pikes Peak or Bust Rodeo has been a Colorado Springs tradition since 1937, showcasing the top rodeo talent and action, while providing wholesome entertainment for the Pikes Peak community to enjoy. Spencer Penrose, an avid sportsman, entrepreneur, and philanthropist, founded the Rodeo and in 1938, presented the "House that Spec built" – the 10,000-seat Will Rogers Stadium across from The Broadmoor Hotel. The name was changed to the Spencer Penrose Stadium after his death in 1939, and the Rodeo continued in that location, under the guidance of community leaders committed to Penrose's legacy.
From 1973-2001, the Rodeo was held at the 71-acre Pikes Peak Equestrian Center. From 2002-2004, the Rodeo moved indoors to the Colorado Springs World Arena. As tradition would have it, in 2005, the Rodeo returned outdoors after purchasing and renovating the Norris Penrose Equestrian Center. Additional building improvements, including an enclosed Pavilion, continue to make the Center state-of-the-art and a place for the Colorado Springs community to gather. The legacy of the Rodeo in the Pikes Peak region was further recognized three decades ago when the Professional Rodeo Cowboys Association located their National Headquarters and Hall of Fame to Colorado Springs. As Colorado Springs second oldest event, there are many opportunities to continue making history in a town that knows and values rodeo!
Since 1946, the proceeds of the Pikes Peak or Bust Rodeo have been utilized to help support service members and their families in the Pikes Peak Region. Colorado Springs is home to the United States Air Force Academy, NORAD/NORTHCOM, U.S. SPACECOM, Schriever Space Force Base, Peterson Space Force Base, and Fort Carson.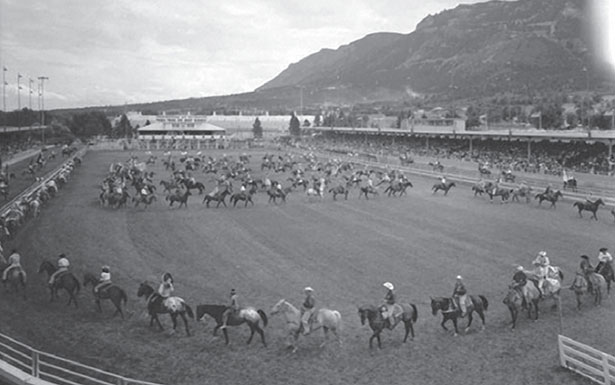 Past PPOBR Champions
Click below to see the cowboys and cowgirls who have taken home the title at previous Pikes Peak or Bust Rodeos!