Who You'll See
The main attractions at the 81st Pikes Peak or Bust Rodeo are the amazing athletes who come to compete. There are seven events that include Bareback Riding, Steer Wrestling, Team Roping, Saddle Bronc Riding, Breakaway Roping, Tie-Down Roping, Barrel Racing and Bull Riding where top prize money will be awarded. There's also fan favorite—Mutton Bustin' where a trophy and a medal is awarded to the winner at each performance.
Our local military are honored at each performance:
Wednesday, July 13, 2022—Fort Carson Night
Sponsored by Northwestern Mutual
Thursday, July 14, 2022—Missile Defense & First Responders Night
Sponsored by UCHealth
Friday, July 15, 2022—Space Night
Sponsored by The Boeing Company
Saturday, July 16, 2022—(Matinee) U.S. Air Force Academy
Sponsored by USAA
Saturday Evening, July 16, 2022—NORAD/USNORTHCOM Night
Sponsored by Lockheed Martin
The Animals in Rodeo
You'll enjoy the precision riding skills of the Pikes Peak Range Rider Pivots at the start of the show. And the lovely and talented Pikes Peak Rangerettes will delight you with their riding skills as well.
The bucking bulls and horses at Pikes Peak or Bust Rodeo are some of the best athletes in the sport. These remarkable animals are owned by stock contractors who make sure the livestock is healthy, well-fed, and fit to perform. The care and treatment of these valuable animals is the top priority for these contractors. Pikes Peak or Bust shares in the responsibility of the care of these animals on-site at Norris Penrose Event Center by having professionally trained judges for each performance, and veterinary staff available throughout the event for any animal care needs.
Boyd Polhamus—Announcer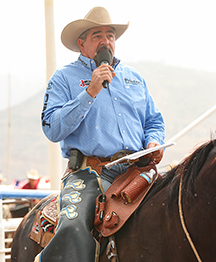 Polhamus joined the PRCA in 1986 as both a competitor and an announcer. His first foray into announcing at that level took place in Utopia, Texas in June of 1986. Two years later, Polhamus bucked his last horse and became a full-time announcer.
Since that first announcing job in Utopia, there was no turning back for Polhamus. During his career that has spanned 36 years, he has been actively involved in more than 1,000 rodeos with more than 4,500 performances across North America. His voice has become a staple at the Wrangler NFR, Houston Livestock Show & Rodeo, National Western Stock Show & Rodeo in Denver, San Angelo Stock Show & Rodeo, College National Finals Rodeo and many more.
Polhamus was named to succeed Shawn Davis as the production manager of the Wrangler National Finals Rodeo in November of 2017. He worked in that position through the 2019 NFR.
Born in Eau Claire, Wis., Polhamus discovered rodeo at young age. He was the first three-time all-around high school cowboy in the state's history. He continued his rodeo career at Texas State University, while also beginning his announcing career.
In 2007, 2008, 2009 and 2012, his peers selected Polhamus as the PRCA Announcer of the Year. He also received the Lane Frost Lifetime Achievement Award in 2009.
Bob Tallman—Announcer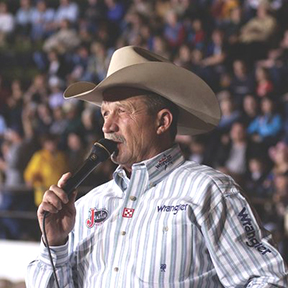 Tallman's 10-time PRCA Announcer of the Year and 2004 inductee to the ProRodeo Hall of Fame had hosted the Gold Buckle Gala numerous times.
In 2020 he was named the Legend of ProRodeo.
Born Oct. 25, 1947, in Winnemucca, Nev., Tallman grew up on a ranch and tried his hand as a rodeo competitor, but he quickly discovered his forte was behind a microphone, as evidenced by his first PRCA Announcer of the Year Award in 1982.
During a career that has spanned more than five decades, Tallman has announced more than 15,000 rodeo performances in the U.S., Mexico, Canada, Australia, and New Zealand.
Tallman worked his record 26th Wrangler National Finals Rodeo at Globe Life Field in Arlington, Texas in 2020.
Bryce Redo—Bullfighter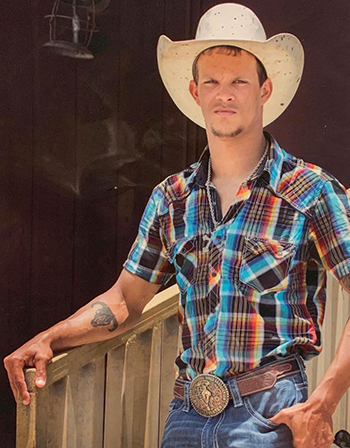 After nine years of competitive bull riding punctuated with a world championship win in Mexico in 2014, Bryce transitioned into bullfighting, eager to tackle a new challenge. Suffice to say, the move has been a success—since then, he has worked at some of the biggest bull riding competitions in the world, including the George Paul Memorial Rodeo in Del Rio, Texas and the Bullfighters Only competition in Las Vegas. He is a two-time winner of the Bullfighter of the Year award for 2018 and 2019 for the Cowboy Professionals Rodeo Association.
Nate Jestes—Bullfighter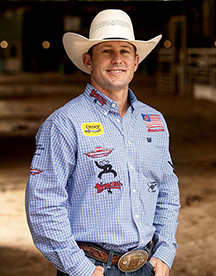 Born and raised in Fort Collins, Colorado, Nate has been fighting bulls professionally with PRCA since 2010. He's protected cowboys at some of the biggest rodeos in the industry from the National Western Stock Show to Wrangler National Finals Rodeo in Las Vegas (four times!) — as well as a stint in competitive bullfighting with Bullfighters Only. Outside the arena, Nate is a Commercial rated pilot as well as a Certified Flight Instructor, and loves sharing his passion for aviation with others.
Dusty Myers—Barrel Man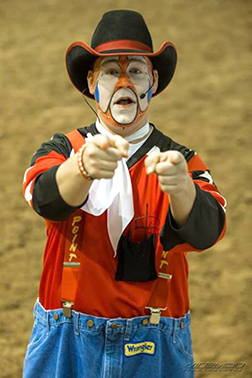 Hailing from Jumpertown, Mississippi, Dusty has been traveling the world entertaining rodeo crowds for years. He started out fighting bulls at age thirteen but later transitioned to his current role, preferring entertainment to being run down by a two thousand pound bull.
Dusty's signature style is to mix old-school slapstick comedy with a healthy dose of energetic cheerleading, and it's won over crowds nationwide. He's worked the International Finals Rodeo on 10 different occasions, SFR twice, NFPB Finals 3 times, CRRA finals, and every region finals the IPRA has to offer. He's most proud of being selected Clown of the Year 9 consecutive years. We couldn't be more excited to see Dusty strutting his stuff at the Pikes Peak or Bust Rodeo | NFR Open this summer!
Pikes Peak Rangerettes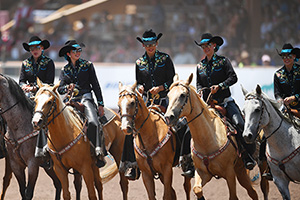 The Pikes Peak Rangerettes were organized in 1957 by the Pikes Peak Range Riders to promote horsemanship, sportsmanship, responsibility and precision riding for young women of the Pikes Peak Region, and to promote the Pikes Peak or Bust Rodeo. Functions and activities are held to encourage unity, self-improvement and enjoyment of horse-related activities. Please visit pikespeakrangerettes.org for more information.
Rodeo Contestants
You'll see some of the top performers in the sport at the 81st Pikes Peak or Bust Rodeo. The events featured are Bareback Riding, Steer Wrestling, Team Roping, Saddle Bronc Riding, Breakaway Roping, Tie-Down Roping, Barrel Racing and Bull Riding.
Women's Barrel Racing has long been a fan favorite at Pikes Peak or Bust Rodeo, beloved for its fast pace and thrilling horsemanship. For more about this exciting event and the athletes that compete in it, check out WPRA

See the members of the Pikes Peak or Bust Rodeo Board of Directors
CLICK HERE
Coors Roadhouse Saloon
Be sure to check out these bands in the Coors Roadhouse Saloon after each nightly performance at the PPOBR | NFR Open!
Wednesday, July 13
Mosquito Pass
Thursday, July 14
Cecil Allen Moore
Friday, July 15
Exit West
Saturday, July 16
Jeffrey Alan Band