The main attractions at the 78th Pikes Peak or Bust Rodeo are the amazing athletes who come to compete. There are seven events that include bareback riding, steer wrestling, team roping, saddle bronc riding, tie-down roping, barrel racing, and bull riding where top prize money will be awarded. There's also fan favorite—mutton bustin' where a trophy and a medal is awarded to the winner at each performance. The exciting American Freestyle Bullfighting bonus event takes place at the Wednesday, Thursday, Friday Night and Saturday Matinee performances.
Our local military are honored at each performance—Fort Carson, Wednesday evening, Missile Defense & First Responders, Thursday evening, Air Force Space Command, Friday evening, Air Force Academy, Saturday matinee, and NORAD/NORTHCOM, Saturday evening.
You'll enjoy the precision riding skills of the Pikes Peak Range Rider Pivots at the start of the show. And the lovely and talented Pikes Peak Rangerettes will delight you with their riding skills as well.
The Animals in Rodeo
The bucking bulls and horses at Pikes Peak or Bust Rodeo are some of the best athletes in the sport. These remarkable animals are owned by stock contractors who make sure the livestock is healthy, well-fed, and fit to perform. The care and treatment of these valuable animals is the top priority for these contractors. Pikes Peak or Bust shares in the responsibility of the care of these animals on-site at Norris-Penrose Event Center by having professionally trained judges for each performance, and veterinary staff available throughout the event for any animal care needs.
Boyd Polhamus

Pikes Peak or Bust Rodeo fans love Boyd Polhamus! He 'speaks' to the long-time fan, as well as the first-time attendee. He explains the action, the scoring, and like all professional announcers, adds that little bit extra about the athlete, the history, and the sport.
His career has put him behind the microphone at the biggest rodeo events in the world, including 21 times as the announcer for the National Finals Rodeo (NFR). He was selected five additional times as the alternate, putting him on the announcer podium in Las Vegas 26 of the last 27 years.
In addition, his voice has filled Reliant Stadium at RodeoHouston for 20 plus years, along with other prestigious locations like the National Western in Denver, the Calgary Stampede, the Dodge City Round Up, and the Snake River Stampede.
When he's not on the road, you'll find Boyd at "Band-Aid Ranch" in Brenham, Texas.
Harry Vold Rodeo Company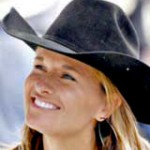 The Harry Vold Rodeo Company, based in southern Colorado, produces rodeos in seven states annually while also providing bucking stock for over 100 rodeo performances, including both the largest outdoor rodeo, Cheyenne, Wyoming, and the largest indoor rodeo, Houston, Texas. The Harry Vold Rodeo Company was started over 40 years ago.
Chuck Swisher—Bullfighter
Chuck Swisher hails from Dover, Oklahoma and has been fighting bulls for ten years. His resume includes accolades such as 2011 National Finals Rodeo Bucking Stock Sale Champion Bullfighter, 2012 NTSF Miller Lite Bull Blow Out Protection Bullfight MVP and Champion, First Annual Fight For Life Lori Webster Freestyle Bullfight Champion, 2013 Dusty Tuckness Invitational Freestyle Bullfight Champion, in addition to working the 2013 Prairie Circuit Finals.
Bullfighters Only (BFO) Freestyle Bullfighting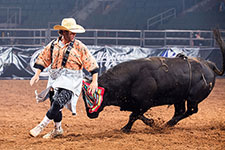 The best freestyle bullfighters in the business go head to head at the Wednesday, Thursday and Friday night performances, with the top scores advancing to the Saturday Matinee finale and competing for the cash prize. You don't want to miss this! Learn more about this exciting sport here! Read on to see who's competing at the PPoBR event (lineup subject to change):
Wednesday lineup: Weston Rutkowski, Kris Furr, Brooks Forsythe
Thursday lineup: Beau Schueth, Toby Inman, Conner Rowley
Friday lineup: Tanner Zarnetski, Ryker Fenstermaker, Schell Apple
Robbie Hodges—Barrel Man
"Rockin'" Robbie Hodges has created an experience unlike any other for rodeo fans, using his quick wit and loveable personality to reach crowds on a personal level. His off the cuff, hilarious banter has delighted fans nationwide since 2004. His secret? He's genuine and flat-out loves entertaining people, especially kids.
Robbie also brings serious skills that has him acclaimed as one of the best barrelmen in the country. While some barrelmen use their barrel as a prop, Robbie actually moves his barrel and becomes part of the protection team. Stock contractors, announcers and especially contestants attest that Robbie is the most exciting, quick witted, and safest man to have in your arena.
Above all, how do you know he loves his job? Listen for his own laughter in the arena, it's contagious. We can't wait to see what Robbie has in store for us for our 78th PPOBR!!
Pikes Peak Rangerettes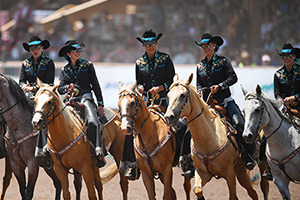 The Pikes Peak Rangerettes were organized in 1957 by the Pikes Peak Range Riders to promote horsemanship, sportsmanship, responsibility and precision riding for young women of the Pikes Peak Region, and to promote the Pikes Peak or Bust Rodeo. Functions and activities are held to encourage unity, self-improvement and enjoyment of horse-related activities. Please visit pikespeakrangerettes.com for more information.