Girls of the West
The Girls of the West story is about our young Rodeo Ambassador, and how she helps promote "the western way of life and the western-type American girl" at our Pikes Peak or Bust Rodeo and other events. Meet the Girl of the West: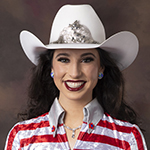 Georgia Strimenos
2021 Girl of the West
2021 Girl of the West, Georgia Strimenos, is the 19-year-old daughter of George and Jenny Strimenos. Since the age of 10, she has been involved in the equine world, competing in 4H, Western and English pleasure, working ranch horse, and gymkhana. She has also served as an ambassador for other Colorado rodeos. Georgia is currently attending Arapahoe Community College pursuing a Communications degree. She plans on continuing her education to one day have a career with the Professional Rodeo Cowboys Association. Meanwhile, she will complete her final year of 4H showing horses, alpacas, and holding officer positions in her club. The mission of the Pikes Peak or Bust Rodeo holds a special place in her heart as her brother is currently serving as an Airborne Ranger in the U.S. Army. She is excited to be part of an 80-year Colorado tradition that gives back to local military and their families as Girl of the West. Georgia rides a paint gelding named Josie.
GOTW images above © 2021 Waldrons Family Studio; Hats by Greeley Hat Works; Buckles by Clint Mortenson Silver and Saddles
More About the Program Past Girls of the West
Schedule
The Girl of the West will be making appearances in the Pikes Peak region to promote the 80th Pikes Peak or Bust Rodeo. Check back here often for the latest updates to the schedule!
May 5 | 5:30 p.m.
Western Heritage Spirit Mixer at ProRodeo Hall of Fame
May 8 | 2:00 p.m.
The Past, Present & Future of Rodeo in Colorado Springs Lecture
May 8 | 6:00 p.m.
Blue Jeans & Brass Gala
May 17 | 11:30 a.m.
Good Neighbor Induction Luncheon at Fort Carson
May 20 | 11:00 a.m.
Metal Mart Customer Appreciation Barbecue
May 20 | 7:00 p.m.
Woodland Park City Council Meeting
May 20 | 7:30 p.m.
Soil Savers Meeting
May 22 | 11:00 a.m.
2021 Rocky Mountain Rumble Bounty on the Bulls at NPEC
May 27 | 10:00 a.m.
Mountain Post Warrior Memorial Honoring Our Fallen
May 27 | 11:00 a.m.
Mountain Post Warrior Memorial Reception
June 1 | 9:00 a.m.
El Paso County Commissioners Meeting
June 1 | 6:00 p.m.
Manitou City Council Meeting
June 2 | 11:30 a.m.
CS Western Street Breakfast Token Presentation
June 4 | 11:00 a.m.
Elizabeth Stampede Royalty Luncheon
June 4 | 3:00 p.m.
Celebration of the Horse at Denver Polo Club in Sedalia
June 5 | 10:00 a.m.
Celebration of the Horse at Denver Polo Club in Sedalia
June 6 | 10:00 a.m.
Celebration of the Horse at Denver Polo Club in Sedalia
June 7 | 6:30 p.m.
Monument City Council Meeting
June 8 | 10:00 a.m.
Colorado Springs City Council Meeting
June 12 | 11:00 a.m.
Top of the World Rodeo Parade in Cripple Creek
June 12 | 1:00 p.m.
Top of the World Rodeo Performance in Cripple Creek
June 13 | 1:00 p.m.
Top of the World Rodeo Performance in Cripple Creek
June 14 | 11:30 a.m.
Evergreen Rodeo Royalty Luncheon
June 15 | 10:00 a.m.
Evergreen Rodeo Parade
June 15 | 2:00 p.m.
Evergreen Rodeo Performance
June 16 | 5:15 a.m.
Street Breakfast in Downtown Colorado Springs
June 18 | 6:00 a.m.
Flyover Range Riders Camp
June 20 | 5:30 p.m.
Range Riders After-Ride Dinner
June 25 | 5:00 p.m.
Pikes Peak Hill Climb Fanfest
June 26 | 11:30 a.m.
Cripple Creek Donkey Derby Days Parade
June 26 | 6:00 p.m.
Cowboy Up in Kiowa Rodeo Performance
July 3 | 10:00 a.m.
Military Appreciation Day at Denver Polo Club in Sedalia
July 4 | 9:00 a.m.
Fourth of July Parade in Monument
July 4 | 11:00 a.m.
Monument Street Festival
July 10 | 9:00 a.m.
Pikes Peak Special Rodeo
July 14 | 4:00 p.m.
Fan Zone
July 14 | 5:00 p.m.
Pre-Production Meeting
July 14 | 5:30 p.m.
VIP Room at NPEC
July 14 | 7:00 p.m.
First Performance of PPoBR
July 14 | 9:00 p.m.
Sign Autographs
July 15 | 4:00 p.m.
Fan Zone
July 15 | 5:00 p.m.
Pre-Production Meeting
July 15 | 5:30 p.m.
VIP Room at NPEC
July 15 | 7:00 p.m.
Second Performance of PPoBR
July 15 | 9:00 p.m.
Sign Autographs
July 16 | 8:00 a.m.
2022 Aide Competition at NPEC
July 16 | 11:30 a.m.
Past GOTW Luncheon & Aide Speeches at NPEC
July 16 | 4:00 p.m.
Fan Zone
July 16 | 5:00 p.m.
Pre-Production Meeting
July 16 | 5:30 p.m.
VIP Room at NPEC
July 16 | 7:00 p.m.
Third Performance of PPoBR
July 16 | 9:00 p.m.
Sign Autographs
July 17 | 10:30 a.m.
Pre-Production Meeting
July 17 | 11:00 a.m.
VIP Room at NPEC
July 17 | 12:30 p.m.
Fourth Performance of PPoBR
July 17 | 2:30 p.m.
Sign Autographs
July 17 | 5:00 p.m.
Pre-Production Meeting
July 17 | 5:30 p.m.
VIP Room at NPEC
July 17 | 7:00 p.m.
Fifth Performance of PPoBR
July 17 | 9:15 p.m.
Sign Autographs
July 17 | 10:15 p.m.
Celebrate in Coors Roadhouse Saloon