There's lots to do before the Rodeo begins. Grounds open at 4 p.m. for the evening performances, and at 10 a.m. for the Saturday matinee. Mutton bustin' preliminaries or try-outs are tons of fun for everyone. Plus there's mechanical bull riding, pony rides, photo opportunities with longhorns, and much, much more. With vendor booths on the north and south sides of the arena, you'll see a wide array of souvenirs to choose from. Vendors and concessions offer plenty of options for meals, snacks, and drinks.
And after the Rodeo, head on over to the Coors Roadhouse Saloon for great music, dancing, and some ice cold Coors.
While You're in Town for the Rodeo


Colorado Springs (or "the Springs" as we say in these parts) is one of the nation's most scenic cities and boasts a full slate of can't-miss attractions. Be sure to check out a few while you're here!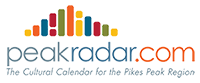 And be sure to stop by PeakRadar.com for other cool arts and culture happenings in the community!