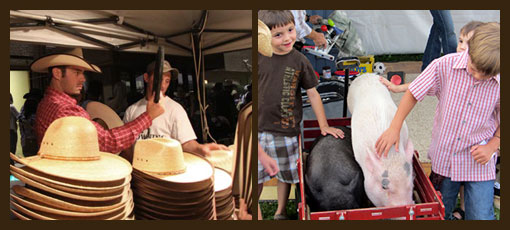 There's lots to do before the Rodeo begins. Grounds open at 4 p.m. for the evening performances, and at 10 a.m. for the Saturday matinee. Mutton bustin' preliminaries or try-outs are tons of fun for everyone. Plus there's mechanical bull riding, pony rides, photo opportunities with longhorns, gold panning, and much, much more. With vendor booths on the north and south side of the arena, you'll see a wide array of souvenirs to choose from. Vendors and concessions offer plenty of options for meals, snacks, and drinks.
And after the Rodeo, head on over to the Coors Roadhouse Saloon for great music, dancing, and some ice cold Coors. Here's some more information on the bands you'll see:
KATY GRAVES (Wednesday night)
katygraves.com

Deep in the heart of Texas is the birthplace of Katy Graves sound. As a native Texan, Katy grew up surrounded by gospel, soul, and country music influences. Singing since before she could remember, Katy found her passion for music at a very young age. Her musical background includes gospel, contemporary, bluegrass and traditional country genres. As a young musician, Katy is off to a stellar career in Country Music. Her title of 2013 CCMA (Colorado County Music Awards) Female Vocalist of the year has her showcasing with an amazing band. With the passion and drive to take her music to a new level, Katy began playing the guitar and surrounded herself with professional musicians with over 20 years of experience. Katy is based out of the mountains of Colorado, where she surrounds herself with the country and beauty of nature to make for a great recipe in her songwriting. This vibrant up and coming country music artist will keep the crowd engaged and on their feet all night long.
---
TUMBLING DICE
(Thursday night)
tumblingdicecolorado.com
Annie Gavin – vocals
Bill Kerr – guitar
"Cactus" Tom Duke – bass & vocals
Art Noble – Drums
Tumbling Dice has been tearing up stages on the Front Range for over three years with dynamic music sets illuminated by Its high energy country music … with an occasional rock song thrown in for good measure … never fails to fill the dance floor. From waltzes to two-steps to swing, the Tumbling Dice Band promises something for every dance and music lover in the house. Armed with a powerful rhythm section, killer lead guitar, and impeccable vocal performances, this band brings the party to any stage. Skeptical? Check us out and see for yourself!
---
EXIT WEST
(Friday night)
reverbnation.com/exitwestband
Alan Mullineaux – vocals and guitar
David Mullineaux – bass
Valerie Carricato – drums
Exit West is a local Colorado band that plays a special blend of country/alternative country and American classic rock. Their style comes from a unique blend of influences of the old outlaw sounds of Waylon, Cash and Hank Jr, to modern alt/country sounds from the likes of Zac Brown, Jason Aldean, Chris Young and Robert Earl Keen. Add in some American Classic Rock such as Mellencamp, CCR, Marshall Tucker, Bob Seger and Springsteen, and you get the sound of Exit West. Their driving beat and a raw sound will have you partying all night long.
---
Southern Belle
(Saturday Night)
southernbelleband.com
Southern Belle is made up of a diverse pick of musicians with decades of experience between them. Their high energy and playful attitudes keep audiences engaged while combining the strength of female & male lead vocals. There is something for everyone in a Southern Belle show. No matter the venue or demographics, We will tailor the show to meet your needs. Whether its a wedding, festival, fair, a good ol' honky tonk or a rock revival, Southern Belle has the songs to keep em happy from start to finish! GET YER "BELLE" RUNG!