The Girls of the West story is about two young Rodeo Ambassadors, and how they help promote "the western way of life and the western-type American girl" at our Pikes Peak or Bust Rodeo and other events. Meet the Girls of the West: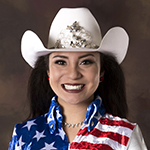 Sierra Silva
2018 Girl of the West
Sierra Silva is the 2018 Girl of the West and the daughter of Joni Duran of Henderson, Colorado. Sierra developed a love and passion for horses at a young age, participating in the Adams County 4-H Horse Program where she graduated as a level 3 horsewoman. She enjoys competing in every discipline including English, Western, Gymkhana, and Ranch Horse. She hopes to compete at the National Western Stock Show someday.
Currently, Sierra works as a dental assistant. She attends the Community College of Denver where she is studying Biology and Psychology. After graduating, Sierra plans to become a dentist and will be continuing her education at Colorado University Denver.
Sierra is blessed and honored to be an ambassador for the Pikes Peak or Bust Rodeo where she can represent the Western way of life she loves, while showing support for our local military and their families.
Sierra rides an American Quarter Horse named Whiskey Breeze.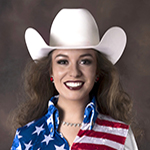 Kayla Summers
2018 Aide to Girl of the West
Aide to Girl of the West, Kayla Summers, is the 19-year-old daughter of Brian and Suzanne Summers. From competing in team roping and 4-H horse shows to leading the Pikes Peak Rangerette Drill Team and representing El Paso County as Fair Queen, Kayla has spent many days in the saddle living by the Code of the West.
Kayla is currently a junior at the University of Northern Colorado where she studies Biomedical Sciences with an emphasis on Chemistry. She hopes to fulfill her passion for helping others by continuing her education as a Physician's Assistant.
As a Colorado Springs native and five-year Rangerette, Kayla developed a strong sense of service towards her community, more specifically towards our local military and their families. Kayla is honored to continue her involvement with the Pikes Peak or Bust Rodeo as the 2018 Aide to Girl of the West.
Kayla rides a six-year old, solid-bred Paint Horse named Abigail.
GOTW images above © 2018 Waldrons Family Studio; Hats by Greeley Hat Works; Buckles by Clint Mortenson Silver and Saddles
Download Aide to Girl of the West Application Here
Download 2018 Girl of the West Clinic Registration Form