2017 Pikes Peak or Bust Rodeo Days
Our invitational championship Rodeo promises edge-of-your-seat excitement featuring many of the best athletes in the business, along with a variety of other traditional western events sure to please the whole family. Fans of all ages will enjoy all the action! Grounds open at 4:00 p.m.— come early, skip the traffic, and enjoy the family-friendly pre-show fun, including mutton bustin' tryouts, pony rides, mechanical bull rides, climbing wall and much more! Also, be sure to swing by the Coors Roadhouse Saloon right after the Rodeo to enjoy live music each night! New American Freestyle Bullfights take place at the Wednesday and Thursday evening performances ONLY!
And there's no better way to kick off Rodeo season than with the 77th Annual Pikes Peak or Bust Rodeo Parade! Taking place July 11, 2017 at 6:30 p.m. in downtown Colorado Springs (on Tejon, from St. Vrain to Vermijo), this beloved Western cultural event is FREE to watch and fun for the whole family. Money raised by parade entries and the parade program goes directly toward assisting our local military and their families. Interested in participating?
Click here to download the Parade registration form and Parade staging rules and regulations
Rodeo Dates: July 12-15, 2017
Location: Norris-Penrose Event Center
Times: 7:00 p.m., Wednesday–Saturday nights, 12:30 p.m. Saturday matinee
Tickets on sale: Tickets will be on sale, online starting March 1, 2017. Click the Tickets Page for more details. Parking is FREE!
More fun at the rodeo
Mutton Bustin'

Is your child 4-9 years of age and 50 pounds or less? Then bring them on down each performance of the Rodeo to try their luck at mutton bustin'!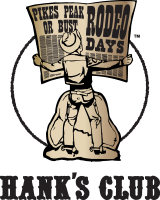 Hank's Club
An exclusive club created for couples who enjoy rodeo and Western traditions and believe in the institutional principles of the Pikes Peak or Bust Rodeo. By investing through their memberships, Hank's Club members help to continue the success of the Pikes Peak or Bust Rodeo and its support of our local military and their families for generations to come.
For more information:
Contact: Hank's Club Inquiries
Or download the Hank's Club membership benefits card
For more information, contact ppobhanksclub@gmail.com.